The new JZ electrostatic transducer (capsule) diaphragm (membrane) technology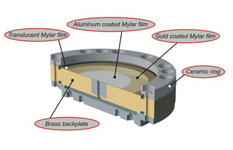 Combined gold-aluminum membrane coating results in:
- More transparent and detailed sound
- Higher signal output - up to 1 dB over all audio response
- Low frequency response down to 16 Hz
- High frequency response up to 25 kHz
- Higher dynamics and SPL
The positive difference will be hearable for everyone.
The new JZ diaphragm technology is patent pending.
Design of our new capsule membrane coating is registered in Office for the Harmonization in the Internal Market (OHIM).
Latest news about JZ transducer technology: Inconstant diaphragm coating reduces specific distortion coming from membranes's circular resonances. Special alloy material provides lightweight, durable and stable diaphragm coating, resulting in higher SPL, less distortion, wider frequency response, more detailed and natural sound.